Styles and Finishes
We offer three styles of edging – Slant, Mower, and Curb. Slant style is our most popular for its look, ability to receive stamped textures, and accommodation for lawn mowers. All styles are durable and beautiful additions to any landscaping project.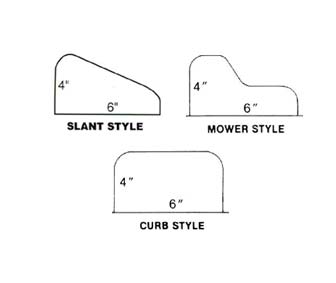 Styles
Slant
The front side of the curb is generally set at ground level to accommodate lawn mower wheels. The slanted look shows off any stamped texture that may be applied. Provides a clean look that complements any landscaping style.
Mower
This hi/lo edging frames the landscaping bed with a distinctive style. While this style cannot be stamped, the intrinsic design sets it off. We do want our customers to be aware that over time grass may creep in over the lower edge unless a line trimmer is used to keep it in check.
Curb
This style is often used in commercial settings. However, it also looks great in a contemporary residential landscape design. The flat surface works well with applied textures. This style will require line-trimming for a tidy appearance since a mower deck cannot ride over the curb.
Finishes
To customize the look of your edging, we have several textures we can apply. These can be used with our without an added color release. Whenever a color release is used, a sealer is applied to protect and enhance the color.
Wood Grain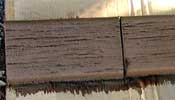 This wood grain pattern was accomplished in one pass on a dark brown integral color. No release was used here, though a charcoal gray release would be very effective.
Belgian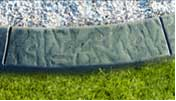 This was rolled on a light gray integral color using a slightly darker gray release to accentuate the pattern.
Spanish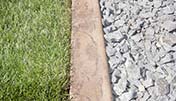 This is our most popular texture. This image shows the pattern on a brown slant style curb with a dark gray color release.
Flagstone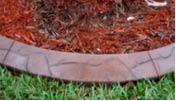 The integral color in this photo is Terra Cotta. It was then rolled with the Flagstone roller using a dark gray color release.
Castle Rock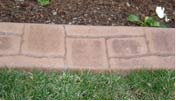 This example shows the pattern applied to a Sahara Brown curb with Autumn Brown color release.
Brick Weave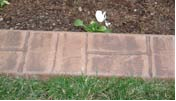 This look is effective with or without the color release. Here it is shown with color release that shows the lines as well as makes the "bricks" appear textured.
Soldier Course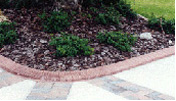 The simplicity of this design makes it show well. "Grout" lines can be colored or left alone. With a color release, the edging can have a variegated brick look.
Large Cobblestone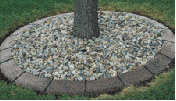 After the concrete texture is rolled, it is a simple matter to place "grout lines" relatively close together to give it a tile or large cobble look. Generally the lines are placed between 8" and 12" apart.